I was never one of those people who had a signature scent although I appreciate the ones that do. I can name a handful of friends and the scents that they have been wearing for years. I can smell that they have been in the elevator when I enter and I can smell them before I enter a room.
Me? I am a perfume chameleon. I have never bought the same bottle twice and with all the perfume on the market who could blame me?
Here is my perfume diary!
1.
Dolce&Gabbana Light Blue
: One of my first perfumes!
I remember wearing this in high-school, fresh and light!
Notes: Sicilian Citron, Bluebell, Granny Smith Apple, Jasmine Sambac, Bamboo, White Rose, Cedarwood, Amber, Musk.
2.
Cacharel: Amor Amor
: After buying this all of my friends had to get it! The perfect balance of fruity sweetness!
Notes:
Mandarin, Black Currant, Melati Blossom, Lily of the Valley, White Musk, Grey Amber
3.
Marc Jacobs
: It took me a while to get through this bottle, I savored every drop. Loved it while it lasted then moved on to my next perfume victim!
Notes:
Gardenia, Wild Muguet, Skin Musk, Cedar, Ginger.
4.
Moschino: Glamour
: Yet another fragrance that was swiped by friends and stopped in the streets for the brand. I bought it last year with birthday money and just sprayed the last of it!
Notes:
Mandarin Orange, Neroli, Bergamot, Orange Blossom, Apple, Pear, Rose, Musk, Petit Grain and Cedar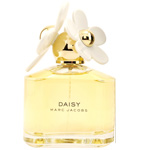 5.
Marc Jacobs: Daisy
: I bought this the day it came out. One moment I was at Bloomingdales getting a sample spray the next moment I was sold!
Notes:
Violet Leaves, White Woods, Strawberry, Gardenia, Ruby Red Grapefruit, Jasmine Petals, Vanilla, Musk
6. Costume National Scent Sheer It was not too long ago that I rummaged the city to get my hands on one of these bottles (check here!). Thankfully my mission was accomplished, I went through this bottle like water! The perfect scent for everyday.
Notes:
White Amber, Apricot Nectar, Hibiscus Blossom, Musk
7.
GIVENCHY: Play Intense
: I've got to hand it to Givenchy, first the ads attracted my attention by thoughtfully casting Justin Timberlake as their male model. Second, the smell is intensely amazing! Third, with a description like this who wouldn't want to give it a try!"
Imagining a woman who is naturally seductive and ready for life's surprises, the original sparkling composition, already seductive and surprising, was intensified to astonish and captivate"
Notes:
Orange Blossom, Amyris Wood, Tiare Flower, Sandalwood, Patchouli, Benzoin.